Sheringham & District Branch, The Royal British Legion - VJ/VE Day Celebration
Sheringham and District Branch held a public VJ/VE Day celebration at the Tyneside Club in Sheringham which was so successful we have now decided to hold an annual 'Party'.
There was old time music, a sing along, raffles and a free buffet. We provided hats and flags to wave and everyone attending had an extremely good time.

Several photographs were taken during this event and are shown below.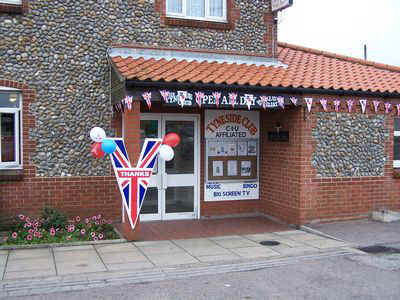 This open day was so successful that we as a Branch have decided to hold an annual open day.
You are welcome to print off copies if you want to. However, if you wish to use them in a publication or on another Web Site, we would appreciate it if you would caption them as 'Courtesy of Norfolka2z, Sheringham'. If you need higher resolution, please contact Melanie Clarke, Secretary.