NEW STORE OPENS WITH DOUBLE DONATION
The new Tesco store in Sheringham has opened with two charity donations, a champagne reception and performances from the Sheringham Shantymen.

Tesco UK Communications Director Michael Kissman said: "Builders have been busy on the site since February. Before that, the new Fire Station and Community Centre that we built as part of the scheme were completed and they are now supporting the local community. This store was the final piece of the jigsaw. There has been so much local anticipation, and it is already really busy."

Store manager Simon Nellis said: "My team and I have enjoyed meeting our new customers and hearing their feedback about the store. We've already started planning events with the local community, and we look forward to serving the people of Sheringham for many years to come".

The store opened its doors to the public for the first time on Thursday 24th October at 8am. Celebrations continued throughout the morning as Melanie Clarke from the Royal British Legion, Sheringham and District Branch and Jayne Matthews and Annette Rigby from the Friends of Woodfields School were each presented with a cheque for £500.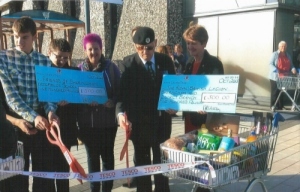 Melanie, who was joined by who was joined by the branch's stand bearer, Tony Thorogate said: "I would like to thank Tesco for their generous donation. The money will be used to help fund the publication of our newsletter which is a lifeline for many of our members who can't attend our regular meetings."